Meet Dr. Bob Johnson
Finding the Natural Path to Healing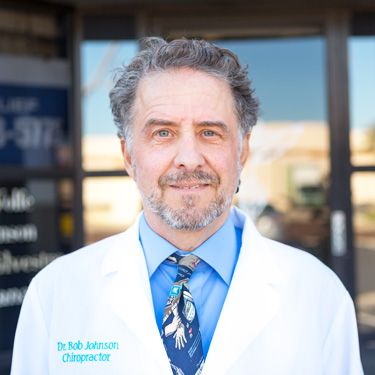 When it was time to choose a career path, Dr. Bob knew he was interested in health care. Growing up, his family would find proactive ways to stay healthy. When he encountered chiropractic, he liked the idea of encouraging the body to heal itself.
"There are times when we need drugs, surgery and more aggressive techniques. But the more you can do things to help your body from the beginning will leave you better off."
Dr. Bob attended Southern California University of Health Sciences for his chiropractic education. He was born and raised in the area, and his choice of college allowed him to remain close to home. While there, he also studied acupuncture and spent a month in Taiwan. Though Dr. Bob doesn't practice it now, acupuncture allows him to bring a perspective of Eastern Medicine into his care. If needed, he will be happy to refer you to someone in his professional network.
EXPLORE CHIROPRACTIC »

Enjoying the Spice of Life
In his spare time, Dr. Bob likes being active. He mountain bikes, road bikes and plays frisbee golf. A self-proclaimed foodie, he is a member of Chilli Heads. With this group, he holds "hotlucks" where people bring spicy food to share. The Food Network filmed one such event. He loves spicy food and chili peppers. His cooking can range from BBQ to Italian, influenced by his relatives who still live in Italy.
If you're curious about chiropractic and our office, we're here to answer your questions. Contact us today to learn more or to schedule your first appointment at Johnson Chiropractic Mira Mesa!
---
Chiropractor Mira Mesa | (858) 578-5776